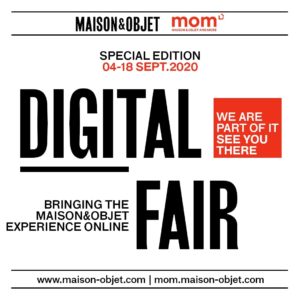 DIGITAL FAIR by MAISON & OBJET, 4-18 SEPTEMBER 2020
For the first edition of the "Maison & Objet Digital Fair", 4-18 September 2020, MITO HOME by MARINELLI is thrilled to confirm its presence for this exclusive and special online edition.
The past months have made us reflect on the value and importance of participating in physical events in order to promote your business, but at the same time have highlighted the absolute need for a constant digital presence during the rest of the year in order to keep constant contact with its consolidated and potential interlocutors.
The DIGITAL FAIR was created on the MOM trend platform – MAISON & OBJET and MORE (https://mom.maison-objet.com), whose main purpose is to put registered companies in continuous communication with the community of visitors to the show. throughout the year and not only during the days of the fair.